SEC sets conference-only schedule starting Sept. 26
The SEC adopted a plan to play a 10-game, conference-only football schedule beginning Sept. 26, the conference announced Thursday.
A conference-only approach had already been adopted by the Big Ten and Pac-12, while the ACC approved an 11-game schedule with the option of one non-conference game played in the team's home state. The Big 12 does not yet have a formal schedule plan, but Oklahoma and Kansas have each scheduled games for Aug. 29.
SEC charts its own path
The SEC's plan will be different than each of the other Power 5 conferences with its late start, which is three weeks after the originally scheduled start and two weeks later than any of the other conferences.



The SEC championship game will be held in Atlanta on Dec. 19, two weeks later than initially scheduled and just 13 days before the College Football Playoff semifinals (Jan. 1).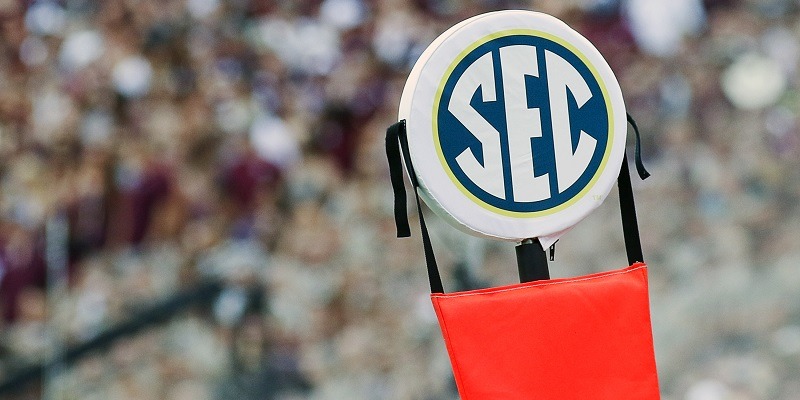 Through the first six editions of the CFP — which typically announces the four teams selected in early December — seven SEC teams have been selected.
"This new plan for a football schedule is consistent with the educational goals of our universities to allow for the safe and orderly return to campus of their student populations and to provide a healthy learning environment during these unique circumstances presented by the COVID-19 virus," commissioner Greg Sankey said in a statement. "This new schedule supports the safety measures that are being taken by each of our institutions to ensure the health of our campus communities."
The 10-game SEC schedule will include the traditional six games against in-division foes, along with four from the opposite division. Normally, teams have only two opposite-division opponents — one that is fixed each year and one that rotates.



Rivalry games go on hiatus
Traditional rivalry games with non-SEC opponents — like Florida-Florida State, Georgia-Georgia Tech or South Carolina-Clemson — will not be allowed, despite the ACC's rules opening that window. A number of other cross-conference Power 5 matchups were wiped out.
"We believe these schedule adjustments offer the best opportunity to complete a full season by giving us the ability to adapt to the fluid nature of the virus and the flexibility to adjust schedules as necessary if disruptions occur," Sankey said. "It is regrettable that some of our traditional non-conference rivalries cannot take place in 2020 under this plan, but these are unique, and hopefully temporary, circumstances that call for unconventional measures."
The actual schedules for each team will be announced at a later date.
The schedule revamping reportedly includes defending national champion LSU adding SEC games against Kentucky and Tennessee, while Alabama landing Florida and Vanderbilt to the conference slate.
Earlier Thursday, the AdvoCare Classic between USC and Alabama, set for Sept. 5 at AT&T Stadium in Arlington, Texas, was officially canceled, as expected. A clash between LSU and visiting Texas on Sept. 12 also won't be played.
–Field Level Media (@FieldLevelMedia)