2019 NFL Draft Profile: Marquise Brown, WR, Oklahoma
Marquise Brown
Wide Receiver, Oklahoma Sooners
5-9 3/8, 166
40 Time: N/A
OVERVIEW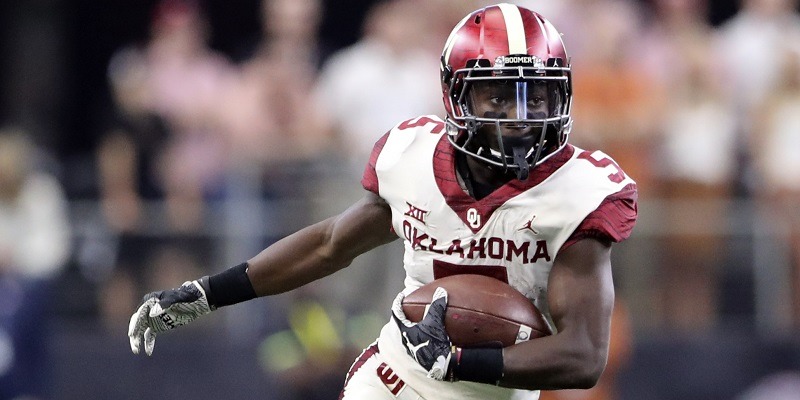 Brown didn't run at the NFL Scouting Combine following surgery for a Lisfranc injury, but he previously had been timed in 4.33 seconds for 40 yards and boasted that he could have made a run at John Ross' combine record of 4.22. Let's just say the man who goes by the nickname "Hollywood" — he's from Hollywood, Fla. — can put on a show.
Brown, the cousin of Oakland Raiders wide receiver Antonio Brown, reportedly weighed about 130 pounds out of high school, and the lightly recruited prospect ended up at the College of the Canyons in California before turning into a four-star junior college recruit and landing in Norman, Okla., just in time to catch passes from two Heisman-winning quarterbacks.
He caught 57 passes for 1,095 yards and seven touchdowns in his first season with the Sooners, and followed up with 75 receptions, 1,318 yards and 10 scores in 2018, when he earned All-America honors with a healthy average of 17.6 yards per catch.
Brown is reportedly expected to be back on the field in time for summer training camp.
While fellow big-play specialists D.K. Metcalf (Mississippi) and Parris Campbell (Ohio State) have since proven their exceptional timed speed in workouts, it was Brown who was widely regarded as the preeminent vertical threat in college football the past two years, averaging a healthy 18.3 yards per catch and scoring 17 touchdowns in 25 games for the Sooners.
Despite his gaudy production, Brown struggled with recurring foot issues in 2018 and may have aggravated the injury against Texas in the Big 12 Championship game, catching five passes for a relatively pedestrian 54 yards. Brown played against Alabama in the Orange Bowl but without his trademark speed, he was ineffective and did not catch a single pass.
The cousin to longtime NFL standout Antonio Brown, Marquise Brown is viewed as an elite vertical threat who should be among the first 50 players selected, as long as teams are comfortable with his recovery and a slim frame.
ANALYSIS
Brown is a decidedly different flavor of wide receiver than top prospects D.K. Metcalf and N'Keal Harry, so his draft positioning might depend on a particular team's taste. His acceleration and explosive skills are the biggest strengths for this undersized wideout who can be used as more than just a deep threat, especially if his slight build won't allow him to routinely beat press coverage on the outside in the NFL.
Given Brown's creative running ability, an imaginative play-caller will use him as a multi-purpose weapon — including jet sweeps and end arounds in the running game. Brown's quickness and experience in the return game gives him another way to make an early impact as a four-down player in the mold of a DeSean Jackson.
Projection: Second Round



–Field Level Media (@FieldLevelMedia)