2020 NFL Draft Profile: Ross Blacklock, DT, TCU
Ross Blacklock
Defensive tackle, TCU Horned Frogs
6-3, 290
40 time: 4.90
OVERVIEW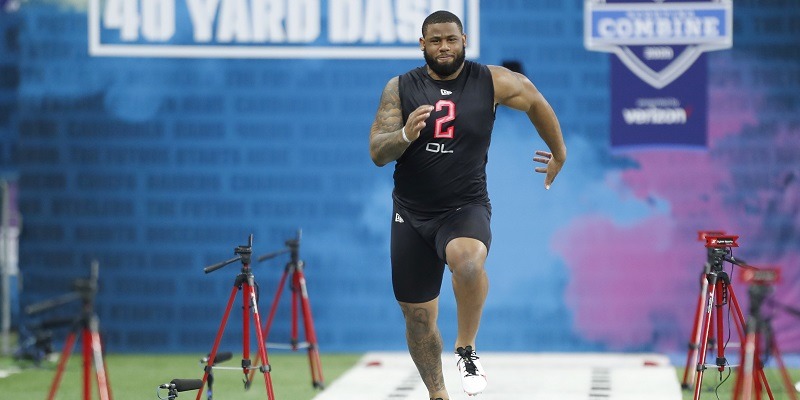 After redshirting his first season at TCU, Blacklock impressed quickly once on the field, earning co-Defensive Freshman of the Year honors in the Big 12, collecting 27 tackles (6.5 for loss) and two sacks in 14 games. He tore his Achilles in preseason camp in 2018, missing the whole season, but returned strong for his redshirt junior season, when he tallied 40 tackles (nine for loss) and 3.5 sacks before declaring for the NFL.
Blacklock cracked the 5-second mark in the 40-yard dash at the NFL Scouting Combine (4.90), though he was average to below average in most other drills.
ANALYSIS
Blacklock brings a strong all-around skill set, with the size, length and movement traits to be a disruptive, three-down defensive tackle. He has quality short-area burst and the lateral agility and flexibility to redirect and counter an offensive lineman's initial set. He also packs a punch on impact, with heavy hands and an explosive bull rush. He understands how to rush half a man and make himself small to get through gaps, creating disruption even if he doesn't get home. Against the run, Blacklock is difficult to block one-on-one, showing the ability to control blockers, or to penetrate by going through or around them and create negative plays. His motor usually runs hot, as he makes plenty of plays on effort.
Blacklock remains a liability at times against the run because of struggles against double teams. He doesn't always recognize them coming and isn't great at readying himself for contact, trying to fight the blocks and getting washed out rather than taking a wide stance and anchoring down. He appears better at dishing out power than absorbing it. Blacklock could improve his awareness overall, which would make his physical traits that much more of a weapon. Durability is a concern after he had an Achilles injury in 2018.
PRO COMPARISON
Sheldon Richardson, Cleveland Browns — Between a redshirt year and an injury, Blacklock didn't have the ideal amount of experience or production at TCU, but his game and body type profile similarly to what Richardson has become. Richardson isn't quite as disruptive as his early years, but he makes plenty of plays. Blacklock could have a similar impact, but he must improve his awareness and discipline to be a complete player.
Projection: Second Round